​
Hi,
from 13.09 to 15.09 will the
Black Jack Event
take place.
Description:
You can choose between 3 different Bets: 10, 25, 50
If you win against the Dealer, you will get rewarded with the respective chest.
If you loose, you will loose your Bet and you can play the next round.
The player starts drawing the cards, the dealer follows. Always card by card.
If you draw 21 points directly, the called Black Jack, you win the round automatically without the dealer can submit.
If the dealer has 17 or more points on the field, the dealer stops and no longer draws any more cards.
If the dealer has 16 or fewer points, the dealer is obliged to draw more cards until he scores more than the 16 points.
By
defeating monsters you will collect

Casino Coins
during this Event. You can also buy the

Casino Coins
at the
Itemshop
.
Warning: You don't drop inside dungeons, because of possible abuse.
Game Instructions:
Target is to score higher then the dealer, or bet that the dealer bust.

Highest count 21 (Blackjack).

If you or the dealer received too many points (over 21) means a loss (busted).

Cards count like :

1 = 1

..

10 = 10

J / Q / K = 10

A = 1 or 11

If you go above 21 and got an A, then the A counts as 1 instead of 11, preventing you from bust.

You start with a turn by Hit (Take card) or Stay (stop), then it's the dealer's turn.

The dealer always hit's until he is above 17 then he stops.

If the game stops with an equal count, the dealer wins.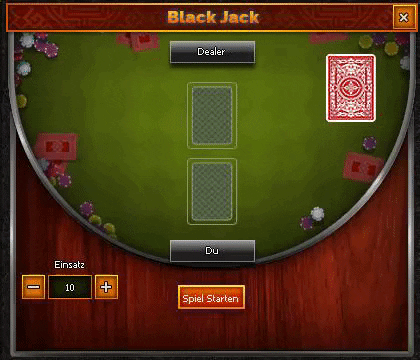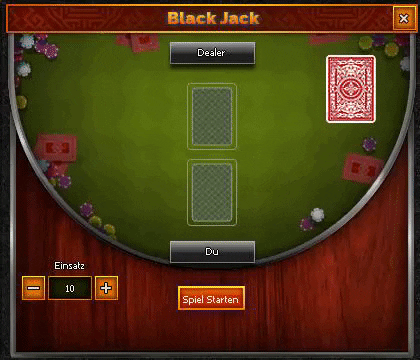 Round reward:
If you win your round you will get the respective chest of your Bet:
Bronze Chest (Bet 10x Casino Coin)

Silver Chest (Bet 25x Casino Coin)

Golden Chest (Bet 50x Casino Coin)

5x Emerald Crystal


5x Tourmaline Crystal


5x Ruby Crystal


5x Garnet Crystal


5x Sapphire Crystal


10x Cor Draconis (rough)


1x Fine Cloth


10x Casino Coin

2x Monster Fish


2x Poison Fish


1x Blue Dragon Bean


1x Time Elixir (m)


10x Cor Draconis (cut)


1x Potion of Thief


100x Enchant Item


5x Red Dew


5x Blue Dew


5x Yellow Dew


5x Purple Dew


5x Green Dew


5x White Dew


1x Potion of Oblivion


1x Researcher's Elixir

1xHairstyle Reinforce Item (Metin)


1x Reinforce Item Armor (HP)


1x Disco Pet Skin 7 Days
(10% Strong against Metinstones)


1x Legendary Exorcism Scroll


1x Legendary Concentrated Reading


1x Boss Scroll (expert)
5x Chest of Supply


1x Pink Dragonbean


2x Potion of Thief


1x Legendary Soulstone


1x Soulstone+


15x Cor Draconis (cut)


1x Xin-Bean


2x Prunous Enchanting


1x Elixir of Time (L)


3x Fish Chest


1x Fire Passage Ticket


1x Frosty Passage Ticket


1x Rune Chest (expert)


2x Gaya Coupon (1)
Sincerely your
Aeldra -Team